Violin makers | Munich
Corilon violins: Violin makers and master violin makers in Munich and Cremona
Sales of stringed instruments in Munich - violin making and service repair orders have been handed over to our workshop in Cremona since mid-2022
Since 2003, several thousand old stringed instruments have passed through the hands of the violin makers at our workshops where instruments are worked over and restored. Our highly qualified luthiers, violin makers and master violin makers have spent long years of intense work dealing with a variety of different design standards, distinctive physical and acoustic properties, and a wide range of forms of damage. They have a rich wealth of experience which is rare, even when compared to international violin shops.
Content overview:
Maintenance and repair of your old stringed instrument
No matter whether your string instrument is historic or contemporary, it is in the best of hands when you bring it to the specialists at our workshop in Munich. Our violin makers will dedicate the same expertise and excellence to your violin, viola or cello which we give to every instrument in our online catalog; a standard which has already won over musicians around the world. Especially when it comes to maintenance and tonal adjustment, our violin makers uphold the highest possible craftsman and aesthetic quality, focusing the breadth of their experience and carefully coordinated services to preserve the value and musical properties of your instrument. With the greatest sensitivity for an instrument's original condition, we develop convincing solutions in terms of restoring varnish, meticulous touch-ups and re-varnishing, and patching simple and complicated cracks.
Premium materials
we exclusively use top-quality materials when repairing your instrument or adjusting its sound. When a restoration to a musically sensitive area is necessary, we take the greatest care in selecting woods with aesthetic and resonant properties that perfectly harmonise with the original substance.

The highest quality standards
our luthiers constantly work on historic master instruments which call for the utmost in craftsman ability; this sets the benchmark at our workshop.

Prompt returns
You can rely on us to return your instrument to you promptly at the date we have agreed upon.

Specialised routine work
over 5,000 instruments in our catalogue have already been routinely worked over at our workshop, and this wealth of experience is tangible, even when we are performing routine tasks.
Every procedure that our luthiers recommend is discussed with you in advance so that you are always aware of the kind of repairs being made and the costs you can anticipate. This applies to repairing the damage that results from accidents or the consequences of improper storage as well as routine maintenance, minor repairs and tonal adjustments. Our experience in internationally shipping delicate string instruments means you can also take advantage of our experts' services even if you are unable to come to Munich yourself.
Corilon violins specialist ateliers for violin making and restoration in Munich and Cremona
Mondays through fridays by appointment
by appointment only - arrange by email
Corilon violins • Lilienstrasse 2 • D-81669 München • Germany
[email protected] • www.corilon.com
Corilon violins S.R.L. • Piazza San Michele, 7 • I-26100 Cremona • Italia
• [email protected] • www.corilon.com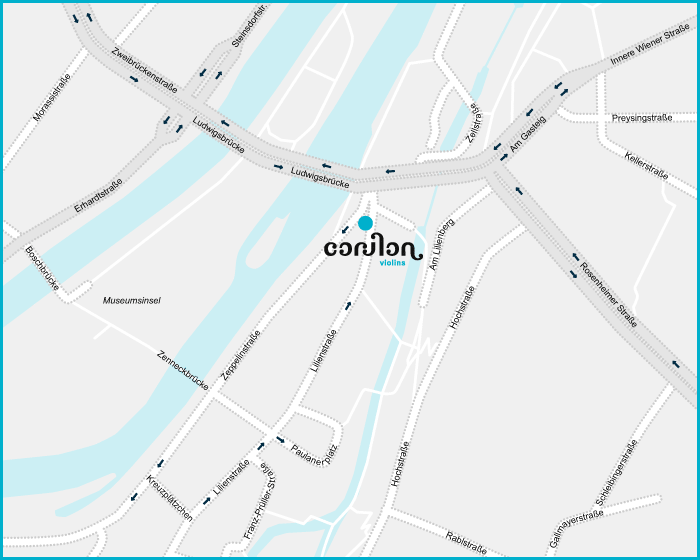 Try and buy selected violins, violas and cellos at Corilon violins
When you visit our Munich shop and spend time with our instruments, you can find inspiration as you try out a customized selection of excellent antique and contemporary violins, German and French violin bows, violas, cellos and inspiring cello bows which will unlock the surprising acoustic potential of the instrument you love. Our collection of master violins is a distinctive collection. We also offer a small variety of violin cases and inexpensive bows to seect from.
Our experience in shipping delicate string instruments internationally also allows you the opportunity to take advantage of our professional services even if the trip to Munich is too far for you.
Related information: