Opening hours
Business hours: visits and instruments trials
## 2.1.2023 - Visits and auditions will no longer be offered until further notice ##
You will find Corilon violins in city centre of Munich in Au-Haidhausen near Gasteig Philharmonie. Please contact us in time to arrange a personal appointment for your visit so we can have selected instruments ready you are interested in. You can send us an email to let us know about your preferences. Due to external storage of our stock instruments, spontaneous visits are unfortunately not possible.
Instrument trials are possible during our business hours between between 10:00 am and 6:00 pm, Monday through Saturday by appointment. Please contact us in time to make appointments by phone or email so that we can arrange opportunities to play selected instruments. Our online catalogue provides thorough information about each fine stringed instrument, including a detailed portrait and a professionally recorded audio clip. This allows you to find the best violin, violas, cello and violin bow for you needs without even leaving your home.
EU debit cards, cash and advance bank tranfer payments are generally accepted free of charge. Credit card payments are subject to a 3.5% card transaction fee, American Express charges a 5% fee.
Please contact us for service prices or an estimate if you are interested in receiving quality work and service for your instrument (repair services are performed by Corilon violins S.R.L., Cremona). Please also have a look at our instructions about safely shipping a violin to us if you are sending your instrument in from abroad.

please arrange your appointment by email!
Corilon violins GmbH • Lilienstr. 2 • D-81669 München • +49 89444 19 619
[email protected] • www.corilon.com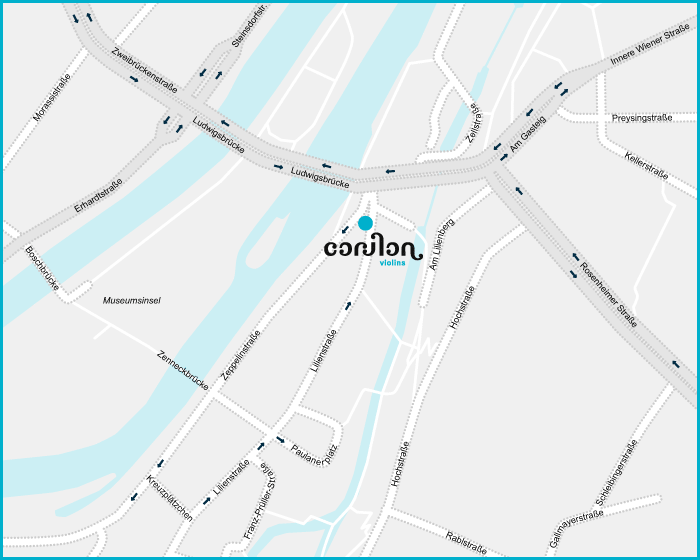 Related information: