Marcello Martinenghi, 1949: Fine Italian viola (certificate Eric Blot)
A self-confident demonstration of sophisticated handicraft and of a distinctive style is this 1949 Italian viola made by Marcello Martinenghi, a reputable master of the Venetian school, whose works have been awarded several gold and silver medals in Florence, Padova and Rome. Authentricity is confirmed by a certificate by Eric Blot, several brand stamps and the original signed labels inside. Marcello Martinenghi sets accents with a typically Italian scroll, beautifully cut and arranged soundholes and delicate accentuated edges. The highly transparent deep-orange oil varnish covering the tonewoods emphasizes the beauty of the regular grained spruce table and the deeply flamed maple of the two piece back. The instrument's top of moderately-grained premium spruce has had a minor repair at the saddle, this spot is to be considered one of the traces that time often leaves on older instruments. One of the traditional forms of audacity found in Italian violin making is the presence of a dark resin pocket on the back of the violin. Technically speaking, this is a flaw in the wood, but for centuries Italian luthiers appear to have chosen at times to choose wood with such defects as a deliberate means of demonstrating their mastery. It is located well outside the soundpost region. The inimitable personality of this 40,2 cm viola is reflected in its rich and well-balanced sound of clarity and maturity, preciseness and colors. Some meaningful signs of intensive playing were left and witness the remarkable voice of this instrument.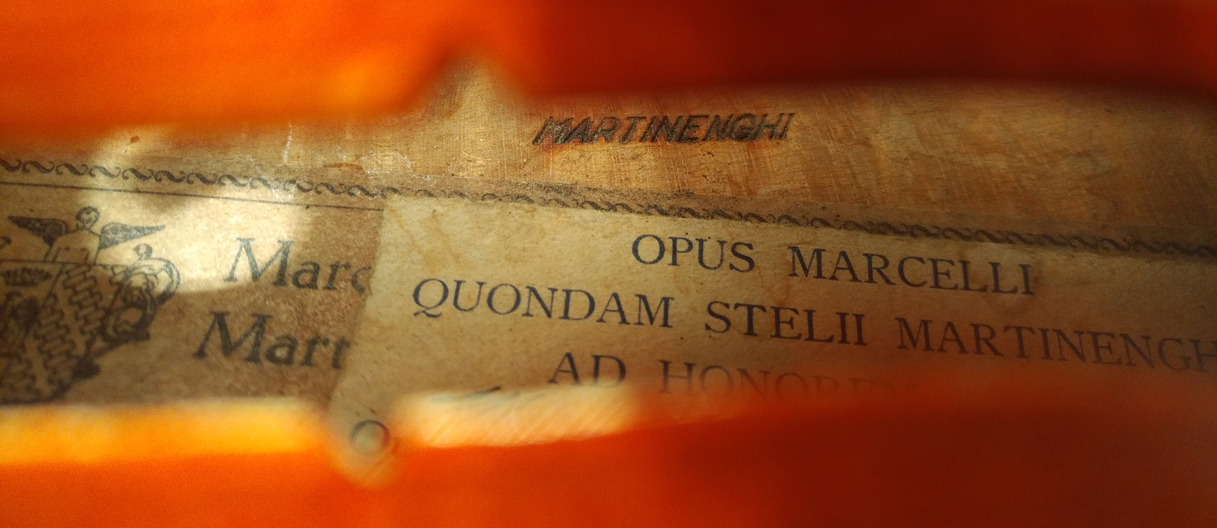 Order a certificate of appraisal with this viola, the certificate option is available in the shopping cart.